IMMEUBLES ART NOUVEAU D'ÉMILE ANDRÉ
Historic site and monument
at Nancy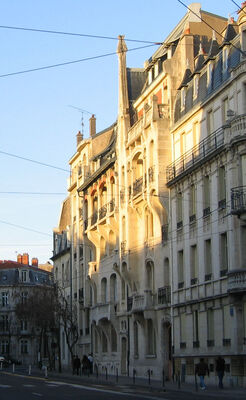 Art Nouveau buildings by Emile André
Avenue Foch was dug between the town and the countryside as a result of the strong demographic growth that occurred in Nancy as of 1870. Several Art Nouveau style constructions saw the day amidst the more eclectic architecture of the other buildings.
They are worth stopping to see if you are walking between the station and the nearby Villa Majorelle.
Two remarkable apartment buildings by the Ecole de Nancy architect Emile André can be found at the end of the avenue, opposite the tower of the old medieval commandery.
The wide variety of materials, the interplay of volumes between the bow windows, loggia, balconies and bay windows, the rejection of symmetry, and the plant motifs make them iconic buildings of the Art Nouveau style.