MAISON DES DEUX SIRÈNES
Historic site and monument, Renaissance
at Nancy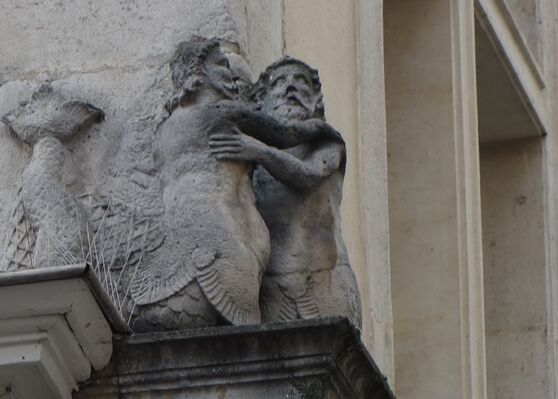 The late 16th century town house known as 'Maison des Deux Sirènes' (house of the two mermaids) takes its name from the sculpture on the corner of the building which depicts, not two mermaids, but two Tritons in an embrace.
The richly sculpted front door is decorated with a head wearing a plumed headdress, and a ruff typical of the fashion of the period.

When the French invaded Nancy in 1634, Nicolas-François, who had become Duke of Lorraine that same year, and his wife Claude of Lorraine, the daughter of the late Duke Henry II, hid in the house because the French did not approve of their marriage. During the night of 31 March to 1 April 1634, the couple disguised themselves as commoners and fled to Florence.