Getting around in the Greater Nancy area
Trams, buses, bicycles, taxis … The entire transport network has been designed to promote mobility in the city.
The essential app for your stay in the Greater Nancy
Public transport
Public transport in the city and surrounding area is provided by 29 bus and tram services.
4 Stanway services: trams 1 to 4
11 Stanbus services: buses 5 to 15
14 Stanplus services: buses A to N (for school and university students)
9 Park-and-ride facilities, with a total of 1,000 parking spaces
Please note that from Monday 13 March 2023, work will take place to prepare for the arrival of the new Trolleybus at the start of the school year in 2024. Line 1 is replaced by lines A (between Essey Mouzimpré and Vandoeuvre CHU Brabois) and B (between Nancy Gare and Nancy ARTEM). You can find maps of the bus routes as well as times and fare prices on the (French only) website of the 'STAN' public transport network: Réseau-Stan
Stan, all the information of the transport network in one app.
Info traffic, routes and plans of all lines of the network
Download for free on Google Play or Apple Store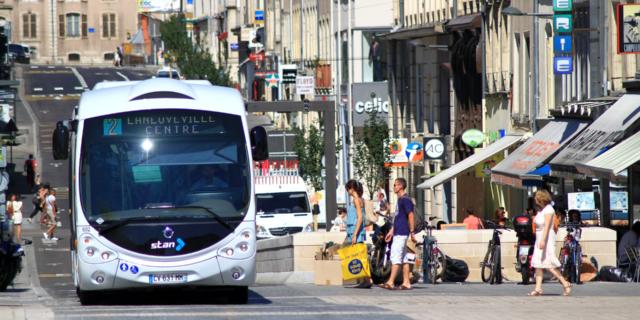 Top tip: the Stan transportation network is now free on weekends for all riders, all year round! Take any route free of charge every Saturday and Sunday. Routes 10, 23, and 24 are free when travelling in the towns of Greater Nancy. Free transportation does not apply on the Suburbain network, nor on the TER Fluo Grand Est routes in Greater Nancy.
Getting around by bike
VéloStanLib' et VéloStanBoutic
For quick short journeys in the city, you can pick up a bike from the VéloStanLib' on-street cycle hire scheme. There are 29 docking stations located throughout the city with bikes available all day every day.
On the other hand, if you want to travel for longer trips, VéloStanBoutic' allows you to rent bicycles for periods ranging from half a day to the year.
Website :  VéloStanLib' and VéloStanBoutic
Nancy Velostan, the bicycle appView the rental stations closest to your location