6 weeks of events from 19 November 2021 to 2 January 2022
The Saint Nicholas festivities in Nancy
A special celebration weekend in December
Due to the COVID-19, program details are subject to change.
The Saint Nicholas festivities in Nancy

From 19 November 2021 to 2 January 2022
The two high points of the winter season in eastern France are the Christmas Market in Strasbourg and the Saint Nicholas Festivities in Nancy!
Saint Nicholas is traditionally celebrated throughout Lorraine, but it's in Nancy that the liveliest and most lavish festivities take place. The official feast day of Saint Nicholas is 6 December, but the patron saint of Lorraine deserves more than just one day of celebration! The highlight of the festivities is the first weekend in December, when people flood the streets to enjoy two days of parades and processions, floats and music, and of course sweets and confectionery. Each year the city invites a guest of honour to join in the traditional celebrations.
Enter the world of Saint Nicholas: from the Christmas tree in Place Stanislas, to the big wheel and children's funfair in Place Carrière, plus more attractions at the 'colline aux grandes oreilles' (Vaudémont car park) and in the butchers' district. If you are brave enough, visit the 'père Fouettard' in his grotto. Get your skates on for a session at the ice rink at 'Quai des Glaces' (Place Simone Veil) and savour a chocolate or gingerbread Saint Nicholas while you wait to watch the grand parade.
Every evening during the six weeks of festivities, the Saint Nicholas son et lumière retells the legend of the three children rescued by Saint Nicholas from the evil butcher.
Saint Nicholas weekend – 3, 4  & 5 December 2021
The high point of the Saint Nicholas festivities, the Saint Nicholas weekend is an emblematic and magical time with two days of free events for all ages across the whole city: 600 performers from 60 theatre companies will give 75 free performances.
Throughout the weekend, street theatre, parades, ice-rink, funfair and big wheel in the world of Saint Nicholas, and music with the local brass band the 'fanfare des enfants du boucher'
Grand parade with floats including some fantastic surprise 'sweet' machines and characters from the legend of Saint Nicholas, on Saturday early evening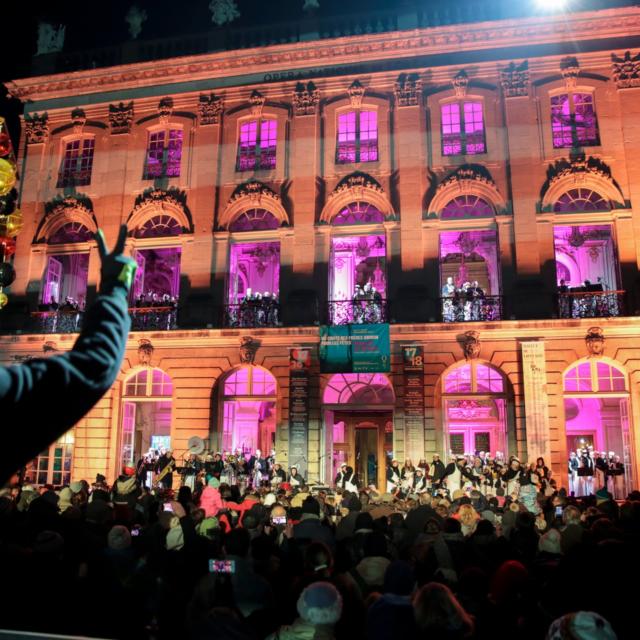 Useful informations
From November 19, 2021 to January 2, 2022
Due to the health situation, program details are subject to change.